Uganda
The Lovin' Soap Project is currently working with one co-operative group of women in Uganda.
Project Lydia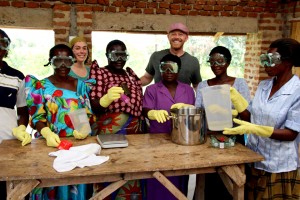 Project Lydia helps local widows and abandoned women overcome adversity and thrive in every area of their lives. PROJECT LYDIA teaches skills, provides a spiritual support system, and opens doors for the women to support their families. The women meet weekly to work on projects together which are sold around the world.
Projects include: recycled paper bead necklaces, baskets, and authentic Ugandan dolls with a story of a local woman of courage who also overcame adversity.
And now SOAP!  We started with Project Lydia in July of 2014, teaching 7 women how to make soap.  You can find them online at www.projectlydia.org.
Haiti
The Lovin' Soap Project is currently working with two co-operative groups of women in Haiti.
OFEDA (Organisation des Femmes Devouees en Action)
OFEDA is a group of women in Haiti, near Port Au Prince, located in a government-owned tent camp whose lives were torn apart in January 2010 after the country's disastrous earthquake. These women are known as OFEDA (Organisation des Femmes Devouees en Action). They are a unique and independent women's group founded after Haiti's disastrous earthquake.
The women, who range in age from 18 to 82 years old, came together for the first time in January 2010 soon after the earthquake. They began meeting under a tree in the tent camp to support and encourage each other with hope and possibility.  View a list of OFEDA's certified soapmakers!  Visit their website.
HAPI - (Haitian Artisans for Peace International)
The heart of HAPI is the group of artisans working to earn a just and fair wage. The majority of HAPI artisans had no regular income. Jobs are not available in a region where bartering in the normal form of commerce. HAPI helps to provide safe, healthy, and just working conditions for the artisans, who create beautiful products to help support themselves and their families.  Visit their website.
---
Interested in working with the Lovin' Soap Project?
The Lovin' Soap Project works with women's co-op groups in developing or underdeveloped countries.  Contact us for more information.