January 21, Journal Entry
~Benjamin
In the ayewopo (airport) now, waiting for our flight back into the states. Because of the love and concern of many, we were able to fly down at the last second, getting the last 2 seats on the flight from Miami to Port au Prince. This quick trip was much needed, and I really feel good about it. To be perfectly honest, it is often a struggle to see progress, but progress IS taking place. We've talked to anyone who will listen / read about how efficient both groups are at soapmaking. The next step is the administrative red tape, taxes, payroll and all of the paperwork that comes with it. And frankly, that part is really difficult to help them with, as we are not Haitian, and we haven't unearthed this part of the process yet, though there are others who are attempting to help.
OFDALAF has the chance to learn business skills and develop an understanding of running a small business via The Artisan Business Network (ABN), an organization based in Port au Prince whose mission is to economically empower Haitian artisans.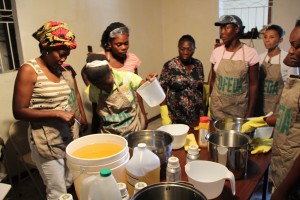 I can see the day in my minds' eye when OFDALAF products are on many store shelves, and they are improving their lives with the revenue they are actualizing. They have been through so much, as have all Haitians. I've grown so attached to them and love them dearly. I want the best for them, and I hope they know that. The language barrier makes it difficult to convey all of the training that we attempt. But geez, are they smart. And resourceful. And quick. We will continue to improve our communications with them, as that has been a huge and recurrent roadblock in our efforts to help. Alas, I do believe this was a progressive trip.
We have to find supplies here. We have to. The business (or attempt at business) will fail if we cannot find supplies.
HAPI, the smaller group of women up in the mountains on the Southern coast, has a great opportunity to positively affect a lot of people in the surrounding communities, as well as make money. My favorite soap they make is "Lolwa ak Anizet." 'Lolwa' is Aloe. It grows all over the countryside. Anizet is a bright green, heart-shaped leaf that is used to make tea. They pulverize the fresh leaf and pitch into the stirring soap pot, while replacing much of the water (the solvent-portion of the soapmaking process, used as part of the base solution) with freshly sliced aloe.
I personally love being up in the mountains of Mizak, Haiti. It is probably my favorite place in the world. It is completely subsistent. Everything they have is grown, produced and harvested there in the community. There are certainly problems, such as where to put trash and waste, finding clean water (recurrently), and having proper nutrition (rice and beans every day can become too much of a specialized diet) and above all, education. But the community there is rich with vibrant life and love for each other. There were tears in the eyes of our young translator and soapmaker, Yolande, as we were saying our goodbyes. I was so moved by this. And everyone cares so much about us – which makes me feel so good about caring so much about them.
Thank you for reading this and giving to The Lovin' Soap Project. The Lovin' Soap Project is a 501(c)3 not-for-profit organization whose mission is to empower women through the artisan craft of soapmaking. All donations are tax deductible. One million thank you's.
And we got to try my first "Cremas"!!! It is Haitian Rum, Coconut, Lime, Cinnamon & Goat Milk!
Love,
Benjamin