January 19, 2015 Lovin' Soap Project Journal Entry
~Benjamin
Today was the first full day up in the mountains of this quick, impromptu trip to Haiti. Mizak is a small village that sits in a vast area of mountains and valleys outside of Jacmel, a large port city on the Southern coast of Haiti. It is a very tight-knit community with wonderful people. It is roughly a 2-hour drive from Port au Prince. As I write this journal entry, I am eating a fresh-from-the-tree orange. It is amazing. Last night when we arrived we had the pleasure of indulging in the best mango I've ever had.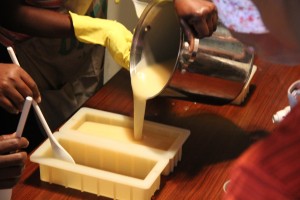 The previous two days were very productive in Port au Prince, although there are still so many obstacles that OFDALAF has to overcome before really seeing the fruits of their labor. Still the biggest hurdle is supplies – OFDALAF needs locally sourced ingredients for this to work, and we got word that help in this arena might be available. We will just have to see and do what we can with the time we have.
With that said…some major accomplishments have happened such as the women getting the workshop space, the women working with an accountant, the business paper from the government…much progress!
One of the women in the OFDALAF group, Diena, died in December. She had a fever. This is all we know. She was also very young – couldn't have been more than 40. Nobody really knows exactly what was wrong with her, but if she had access to simple medications and a check-up, she probably would have been making soap with us these last 2 days. She bought medicine off the street.
Another member of the group, Judith, has suffered immensely as her husband has recently passed away. She has 5 children and one on the way. Amanda spoke with her and asked what her biggest fear or struggle was now that he was gone and it was paying for school for the kids. He was always able to afford the children's schooling, and now that income stream is gone. He had high blood pressure. This is all we know. All of the finances now lie on her shoulders and the money made from the soapmaking business is even more urgent.
But even with these saddening circumstances, the women had an overall enthusiasm about finally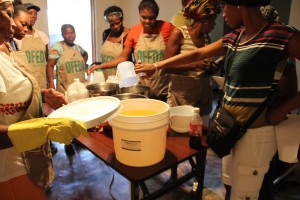 making soap again, as it had been far too long because of the lack of ingredients. A huge shipment of oils and essential oils donated from Wholesalesuppliesplus.com finally made it through customs! Everyone was in good spirits. We made a lot of soap and had good conversations with the group as a whole. We discussed packaging options, pricing per ounce of materials, labels, and overhead. They know what it takes to run a successful business, and the gears are slowly starting to turn. One thing for sure is how good the soap is that they make. Some major accomplishments have happened such as the women getting the workshop space, the women working with an accountant, the business paper from the government…much progress!
I never get tired of watching them make juice in a huge mortar and pestle from a vine called Asso Rossi. We use this in the soap. Asso Rossi is good for the skin and in turn the soap a beautiful green color.
Yesterday we had lettuce, tomato and ketchup sandwiches. The day before we had cheese crackers.
Today the Mizak-centered group did a great job. We made 200 bars, many of which will supply the women's clinic and birthing center, being built right next to the soapmaking and artisan center. The clinic soap is made with a local ingredient, called Mantegue (a lot like soybean oil), with a little bit of Coconut oil as well. It is very inexpensive and still effective.
This clinic soap will also be part of our new Community Hygiene Initiative, which means that mission groups that come into this area will buy this soap to then give to the surrounding communities, as the soap is centrally located in the village center. Many teams currently bring commercially massed produced soaps from the U.S. and give them out. It is a wonderful thing, but this is better, as it is local soap made by local Haitians that is being provided through the good-natured folks that come through on mission trips. Since we've been coming here, we've seen cisterns and wells built, as well as water filtration systems being installed in area homes, as the water occasionally kills people who have a weak system. We've seen church groups from Canada, all the way to a group of young students from my alma mater, The University of Missouri, come through with efforts to help. These folks can now purchase an inexpensive soap from local Haitians to then pass along to those in need.
I feel great about this project and it is well underway.
Today for lunch we had a piece of cheese and bread.
I have no idea what dinner will be, but I'm certainly ready to eat.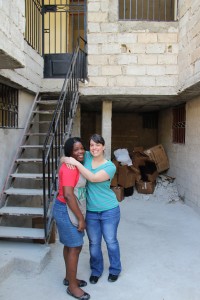 Thanks for reading this Lovin' Soap Project journal entry. Grateful for you, and please keep sending your high thoughts, prayers and good mojo to these wonderful women and their families. We have all day tomorrow to make soap and then we head back to the states on Wednesday.
If I get the opportunity, I will write more and post tomorrow.
 (p.s. I had to stop this journal entry to break for dinner…it was rice, beans and goat! Delicious MANJE! (FOOD!))
Love, Benjamin