We will have many stories of soapmaking on our 42 day soap odyssey around the world… after a lot of long travel to, from and within China, we have arrived in Delhi, India and made a few friends already. Alas, I have chosen to write my first blog post not on soapmaking, which will come in droves later I'm sure…but rather on a unique experience I found myself in, never to be forgotten.
Tsampa. And Family.
Not many fancy things reside in the small Tibetan home we stayed in for a few breathtaking days and freezing cold nights in March. The affectionate family that hosted us was living this communal crest of life on the shoulders of generations past in an intensely stunning valley amid two majestic mountain chains in the Northern Gansu Corridor of China. This small family is completely subsistent, relying on the land and the animals that both consume and nourish it. Yaks roam and sheep rove through the nearby valley in winter and the far steep slopes in the summer.
It is mid-March and there are no signs of spring. It is brutally cold at night. 10 yards from the front gate, yak dung is piled higher than my head in several long rows, reaching 30 feet or more. The dung serves as fuel and is the only source of heat for the long winter, as I can see for what seems like miles and need only one hand to count the trees. No, there is nothing fancy about this vast place. This is a hard life. This life requires constant diligence and ancient, countryside-savvy. Errors or injuries could result in prolonged pain, discomfort or even death. The nearest town is a two-hour drive. No, there is nothing fancy about this this place, save the cups and what they harbor.
The porcelain teacups are delicately patterned with an array of Chinese or Tibetan symbols of all kinds. One morning I could be handed a cup delicately mottled with red and yellow dragons, the next morning one with blue and orange koi fish. Whatever the design, my beautiful teacup held what is now my favorite morning meal, tsampa.
Ama, or mother, fetches a cold bowl full of yak butter. She gently breaks off chunks of the creamy, yellow butter into my teacup. No pads of butter here, these are chunks. With arthritic hands, she clutches a worn kettle and rusty sieve from the iron stove, which is fueled by yak dung. She slowly strains fresh, piping hot tea into my cup. The heaps of butter quickly begin to melt. The cup is within my reach, but I dare not touch it. It is Tibetan custom to serve and be served with a loving, present moment awareness, not to mention great care. She picks up the cup with both hands, and hands it to me as if it were a newborn baby. The only Tibetan word I had the capacity to memorize during my stay was thank you, which is pronounced gua-den-che. I am never clear if I pronounce it correctly. In fact, I'm fairly certain I'm not, as the family warmly giggles every time I speak it. Nonetheless, I bow my head and utter the Tibetan phrase.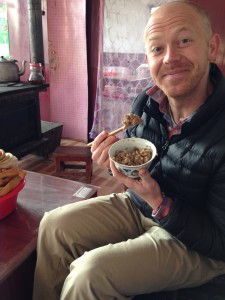 After a few rounds of watching Apa, or father, sip his cup; I quickly learn the technique. As I bring the cup closer to my lips, I tenderly blow away the butter that sits on top from the rest of the tea and quickly drink. Blow. Sip. Blow. Sip. Though I am getting the hang of it, no matter how much I blow away the butter, it quickly finds my lips as I sip, coating them as if I've just applied the world's greasiest lip balm. At first I find this to be gastronomically unpleasant, as I'm just not used to consuming this much butter in such a way. But as the sips go by, I begin to enjoy it more and more. I quickly begin to love it.
And with love comes understanding. I get it now. This isn't just a morning spike to get you going; this cup of tea is a bold assertion to the icy yet beautiful day that lies ahead. This little buttery cup mocked the cold, callous morning. This rich, searing hot cup of liquid energy equalizes the unforgiving wind that whirls through this freezing valley. I relax and find myself quite pleased by the fatty cup of tea. But this was only the start. As my cup went from full to half, Ama rose from her tiny wooden stool and fetched a red wooden box from the corner of the cold room. The transition from tea to tsampa begins.
She slides the lid all the way off to expose two compartments, each housing a different piece of the next culinary step to our breakfast of tea. The bigger of the two compartments is filled with roasted, powdered barley. A wide, flat spoon sits atop the heap of barley. The smaller compartment holds small, yellow, rock-like crystals of cheese from yak's milk. After careful instruction, I scoop a small quantity of the powered barley into my half cup of butter tea. After further instruction, I add a little more. I then add a scoop of cheese. I am motioned to add some raw sugar, nested in a bowl on the table. Ama hands me a pair of chopsticks with the same awareness and care that she gave when offering me my full cup of tea.
With my chopsticks, I mix the heap of dry ingredients into my butter tea in my little ornate cup, still warm to the touch. I notice some of the family mixing with their hands, effortlessly rotating their cup in circles in one hand and padding and prodding the mixture with the other hand. Though I washed before sitting down to eat, I stuck with the chopsticks. There is no plumbing here. The frozen-solid river 30 yards from the front gate serves as the bathroom. Furthermore, soap isn't utilized as I am used to, hence chopsticks over hands. I prodded and poked, mixed and mashed.
My grainy, buttery amalgam being thoroughly blended and mashed, I am given the green light to indulge. I am skeptical, but hungry. I curiously ogle at the thick, brownish blue paste, scattered with yellow cheese crystals that refused to melt or even soften. Since arriving in China, I've enjoyed the challenge of chopsticks and so I dive into my cup with my little wooden twigs. The texture was like the grits my mother used to make, only slightly drier and with crunch from the cheese. I sweetened it to perfection with the raw sugar. I now understand why the butter needed to stay in the cup throughout the prior sips.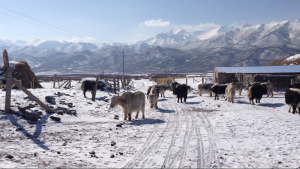 I can't believe how good this is. If the butter tea itself was the pawn that battled the cold, this now perfect combination of different foodstuffs was the cavalry. It tasted like home, only not my home. I am being lovingly coddled with a simple yet far-reaching food from a lovely, far-reaching family.
Every other meal in this stunning valley consisted of some form of yak, whether roasted on the bone, in a dumpling, or in soup. I ate yak cheese and yak milk yogurt. I ate yak sausage, organs and all. It was tough, stringy, and ever chewy. On a few occasions I didn't even want to look at the yaks, which were scattered throughout the valley, sometimes congregating on the frozen river – my bathroom – forcing me to find some other respite of necessity. No, I couldn't eat any more yak than I had to. Alas, as politely as I could, I opted out of the hard, yak cheese crystals in my morning tsampa after the inaugural trial – just the buttery tea, roasted barley and raw sugar for me. Sweet. Grainy. Perfection.
I have already reminisced of my recent time in Daichen Village and that buttery, granular treat I was so tenderly served every morning. But of course the tsampa was only half the experience. My hosts are astonishing people, completely hidden from the overly glorified busy life that I am used to. The language barrier being what it was, we couldn't speak to each other, at least not in the formal way; but the connections we made through gentle expressions, kind gestures and soft faces were more than words could ever express.
On the cold kitchen wall was a world map, mounted with scotch tape. During a meal, I would occasionally point to a country that I've been to, or make a bounding half-circle with my forefinger from one country to the next while making a vhirrrrrrr sound and sticking out my arms as if they were wings, noting where we were to fly to once we leave this place. Apa would come close and look with great intention. He seemed fascinated, in complete wonder. I could even sense a slight bit of apprehension, as if he were thinking, you be careful, Benjamin & Amanda. Don't rush off just yet. And after being completely engulfed in the love and care of this small Tibetan family for several days and nights, I didn't want to.
To all of our supporters, followers and readers: Gua-den-che.